Management Matters
Be the Best Boss Ever
Date Posted: 08/18/2014
How to be the Best Boss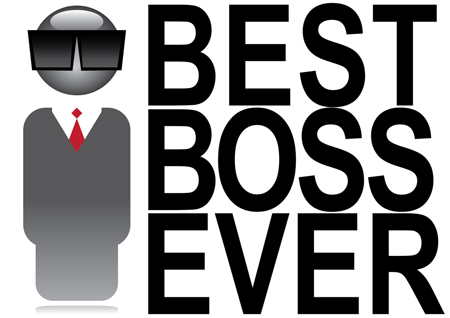 Bosses are often the primary reason for people either loving or leaving their jobs. Great bosses consistently inspire employees to perform well and remain loyal; provide them with useful feedback and help them to promote their professional reputations. Most importantly: to treat their employees as they themselves would like to be treated.
Here, we identify some characteristics of a great boss. Needless to say, these qualities play a major role in the long-term success of your business. Do you have what it takes to be a great boss?
Communicate – Communication is essential. So always communicate with your employees clearly, professionally and honestly by giving performance feedback, setting goals and expectations and telling them the truth even if it sometimes hurts. Effective communication is a tool not only to encourage and motivate your employees but also to identify and resolve problems as a lot of problems in an organization are the result of lack of communication.
Promote Growth – A good boss equips employees with needed skills to improve their quality of work and efficiency. A good boss delegates tasks appropriately and looks for opportunities to maximize each employee's strengths. A top-notch leader encourages his/her team members to grow and to reach their full potential.
Build Trust & Respect – Learn to trust your employees because workplace cooperation disappears when there is a lack of mutual trust and respect. Bosses who believe employees are capable, responsible and can be utterly relied upon encourage a strong sense of community and a positive working environment with open, honest and two-way communication.
Motivate – A good leader sets high standards for performance, productivity and professionalism for himself and for every employee. However, during periods when these standards are not met, one must avoid blaming and singling out poor performance which will demotivate and just create further problems. Don't lower your standards, instead partner with your employees and take on challenges as a team.
Encourage Teamwork – Remember that cooperative teamwork among employees maintains trust and respect more than competitive interaction does. Great bosses create incentives for not only individual contribution but for aligned team contributions. Keep the entire team focused and aligned towards delivering promised products and services.
Recognize Efforts –Employees need to feel appreciated for their efforts. So, never hesitate to compliment your employees and thank them for their excellent service – in front of clients if possible. Research shows that recognizing your employees can be more motivational than bonuses. Giving credit to your employees will boost their confidence.
Effective Listener – Your employees deserve to be heard when they have concerns. Allow them to finish talking before you speak; do not form objections in your mind while they are talking, instead, try to be fully engaged while they are talking. Acknowledging their points do not necessarily mean that you agree but just that you understand their concerns. You may not need to take any action but hearing them out is important to make them feel they were heard.
The above practices and behaviors will have a major impact on the effectiveness of your employees. There is no perfect boss but you can be a better one!! Remember great bosses create a workplace of inspiration and deserve the best employees to work for them.
If you want to hire the best employees, you can trust Ikon Solutions to find the people you need and be certain that every detail of the hiring process is maximized in finding your ideal candidates.
If you have any questions, comments or suggestions for future articles, please email us at [email protected]. We regret that replies cannot be addressed individually.
©2014 Ikon Solutions Asia, Inc.
All rights reserved.  No part of this article shall be reproduced, stored in a retrieval system, or transmitted by any means, electronic, mechanical, photocopying, recording, or otherwise, without written permission from Ikon.  No patent liability is assumed with respect to the use of the information contained herein.  Although every precaution has been taken in the preparation of this article, the publisher and author assume no responsibility for errors or omissions.  Neither is any liability assumed for damages resulting from the use of information contained herein.
Ikon specifically disclaims any responsibility for any liability, loss or risk, personal or otherwise, which is incurred as a consequence, directly or indirectly, of the use and application of any of the contents of this article.